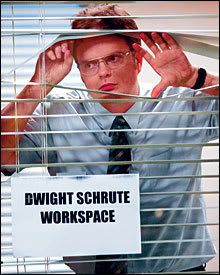 It's too bad NBC refuses to properly promote some of their new shows. Example: Best Friends Forever. I read some praise for the show in some message boards. Never saw the show, but it's going to take NBC a long time before they find their next comedy hit.
I prefer the next season of the Office with only a few minor characters and new main characters. I know many would want "end the show" but Office is still highly-rated and somewhat competitive for NBC.
On another note, no thanks to a Dwight spin-off.
I'll take an "average" Community over a well-made Big Bang Theory.
I hold no hope for Harry's Law (few young people watch it) & Awake (few people watch it).
Tom/Ann is no longer cute.
NBC carries that loser stench for most of its prime-time lineup, doesn't it?